How to Join the Hillingdon Choral Society
Come and sing with us!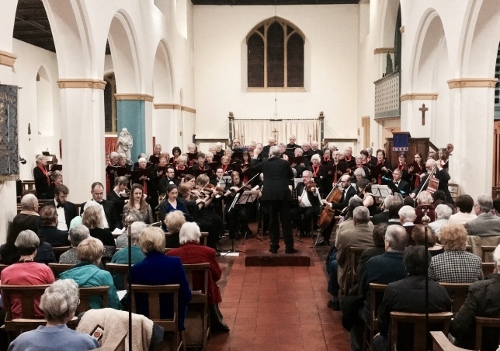 HCS Spring Concert, April 2017
HCS welcomes those who enjoy singing, with no formal auditions, although an ability to read music is desirable. Membership is open to anyone over 18 years of age, with current members' ages ranging from early 20s to late 80s.
Rehearsals:
The season runs from September to July, with breaks roughly in line with the academic year. The 2019 autumn term is underway. Rehearsals are on Monday evenings from 7.45pm to 9.45pm at the United Reformed Church, Ickenham:
United Reformed Church,
Swakeleys Road,
Ickenham,
Middlesex,
UB10 8BE (map).
Subscriptions for 2019/20 are £33 per term.
The first term is half-price for new singers.
You can take a look at our information booklet for members here.
The membership secretary, Kim Burke, can be contacted on 07525 179167.
Music is provided by the Society, although many members choose to purchase their own copies of key works.
Whether you would be continuing with an existing interest, restarting an old one - or just want to try a new experience - come and give us a try. You will be very welcome!
"What a feast of an evening this was, with the high standard and exciting performance we have come to expect from this society."
Uxbridge Gazette