The Society Today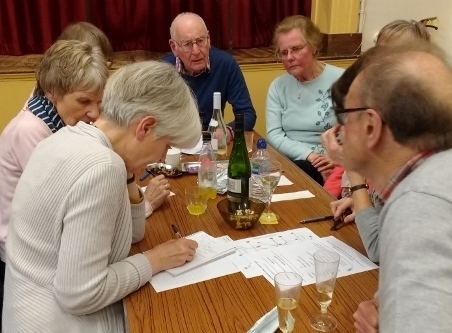 A recent Society quiz night
The members of the HCS all have at least two interests - the enjoyment of singing, and the performance of choral works for local audiences!
The repertoire is varied with an average of three concerts per year. Winter concerts usually consist of classical music with Christmas carols; in Spring we often perform sacred music around Eastertime; and the summer concerts generally tend to feature a lighter programme, such as opera choruses or songs from the shows.
Over the years, we have performed the works of composers ranging alphabetically from Bach to Vivaldi by way of Cherubini, Elgar, Orff, Lehar, Poulenc, and Rutter. Our conductor is still Peter J Williams, who was in on the founding of the Society in 1980. Sometimes we concentrate on one major work, on other occasions, several are featured.
The Choir also arranges regular social events such as Christmas parties, boat trips, and quiz suppers.
The HCS has an impressive list of overseas tours, including Germany, Belgium, Holland, Czech Republic, Austria and Hillingdon's twin town in France, Mantes la Jolie, where we went for the Three Choir Festival in 2003. We have most recently returned from a very successful tour to Luxembourg in 2019. The previous tour was to Holland in 2016. See our photos page for more.
The HCS is often invited to sing at local charity or other events. In recent years we have sung Christmas carols at the Harefield Dogs' Home, joined in a Help for Heroes concert at St Martin's Church in Ruislip, and sung at the opening of a new peace garden at the Cherry Lane Cemetery.
The Society is a Registered Charity.